Some random musings on boating from TYC member and author John Kettlewell.
It's back!
Hurricane season, that is. Officially, the Atlantic hurricane season runs from June 1 through November 30, with the most active time usually in August and September. Though, with global warming we are seeing all sorts of unusual weather patterns and events, so it is worthwhile to stay aware throughout the season, and even beyond.

I do a couple of things at this time of year. First, bookmark the National Hurricane Center's home page, and put it on your web browser's bookmark bar where you can quickly get to it. Second, I double check my insurance policy--seriously, make sure you are paid up and you've updated any information with your insurance company: change of address, new equipment onboard, change of marina, change of operators, etc. After you need to make a claim is not the time to notify your insurance company of some change that may have altered your coverage.

Other great sources of tropical weather information abound on the Internet. One of my favorite's is Dr. Jeff Master's WunderBlog. Be sure to read the comments from weather nuts too. The blog is one of the best sources of detailed predictions/guesses on what might happen a few days down the road. Fun stuff to read, but I find the Hurricane Center's predictions remain the best.

Another fun site to check out when we do get a storm is the National Data Buoy Center, where you can click on your favorite buoy or light tower to get up-to-the-minute on-site wind readings and often wave heights. I have Buzzard's Bay Tower bookmarked for fast access, and I also check out Borden Light, which is closer to where I keep my boat.

And, finally, it's not too early to begin preparing for the possible arrival of a hurricane. Keep your eyes out for sales on new dock and anchor lines. That spare hurricane anchor found in a yard sale now will be a bargain if you need it in August! Maybe figure out how you are going to rig extra-heavy mooring painters or dock lines, and don't forget to arrange for heavy chafing gear to protect those lines. I like to store and keep all this stuff organized and handy so that I'm not having to rush out to stores to find things at the last minute, which might be too late.

Wear it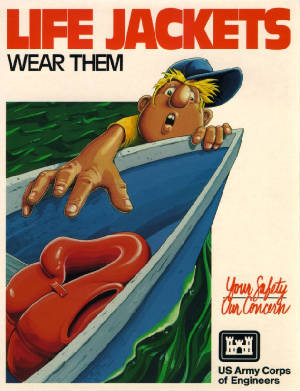 UPDATE: The U.S. Coast Guard just released a report that the boating fatality rate was down almost 13% in 2012 compared to 2011. Seven out of ten people who drowned were on boats less than 21 feet long, and in 17% of the boating deaths alcohol was listed as an important factor.

A lot of words have been written about boating safety, and a lot of safety equipment is marketed and purchased. But, the most important piece of safety equipment is free. It is located between your ears.
Safety begins first thing in the morning when you hopefully wake up well rested and thinking clearly. Sounds simple, but how many times have you forced yourself to get up early, skipping breakfast and that eye-opening cup of coffee, in order to catch the tide or make a lot of miles? Sure, we all do that, but when you are rushing things go wrong. You can't find your boat shoes, so you put on a pair of flip-flops and slip on the deck, turning an ankle. Or, you pull away from the dock in a rush and leave a line trailing over the side that eventually gets wound up in your prop. You head out of the harbor without checking the weather forecast, and you miss the threat of thunderstorms. You get the idea--being in a rush and not following your normal routines are the enemies of safety.

Probably the single most important thing you can do each and every time you go out is to check the weather report and plan your trip around it. My routine involves always checking the marine weather on the VHF radio prior to firing up the engine, and checking it multiple times throughout the day--weather can change quickly. I keep a small notepad and pen or pencil next to the radio so I can note down important things in the forecast.

Simple, inexpensive things like that notepad and pen can be important safety equipment too. I use it to note down the times when I pass buoys or important turning points, just in case the GPS goes out. I use it to record Coast Guard warnings, or to note a latitude/longitude position if I hear a MayDay call. One really important piece of equipment to keep near the helm is a water bottle--stay hydrated properly and that piece of equipment between your ears works better.

It goes without saying that alcohol is the enemy of proper functioning of that safety gear between your ears. On my boats there is no alcohol consumption allowed while underway, or during a lunchtime stop. We enjoy our evening cocktails only after safely in harbor with the anchor down or tied up to the dock, but even then it is important to imbibe in moderation--you never know when you will need your wits about you during an after-dark anchor drill when a thunderstorm rolls through. The tricky part is controlling any guests you have onboard, particularly ones who may not be used to boats and being around the water. I will never forget the grim news one morning that a body had been found floating in a marina near where I keep my boat. It was someone I knew vaguely. Apparently he got up in the middle of the night after a lot of partying and just fell overboard, and nobody noticed him missing until the next morning.

The point being that your mindset is the most important safety tool you can bring onboard. Don't assume that you and your crew are safe because you have purchased all the latest safety gear. I was reminded of this when my son was about five years old. We were on a wharf getting ready to board our dinghy to return to the boat. I was putting my son's lifejacket on him when somehow he wriggled free, popped out of the lifejacket and flipped over the side of the wharf into the harbor. Needless to say, there was a moment of panic as I dropped my camera and other gear and jumped over the side after him. But, my son had already had swimming lessons and was used to being in the water. By the time I hit the surface he had already grabbed ahold of a dinghy and was pulling himself out of the water. Lesson of the story--put your lifejackets on before you need them, and that means before you head out onto the docks. Second lesson of the story--our mindset had always been that we wanted our children to be "waterproofed" before we went boating, so we had spent a lot of time teaching them in the water to minimize dependence on safety equipment that might or might not be there when needed.

So, yes, get the best safety gear and use it, but it won't do you any good if you don't turn on the gear between your ears.
Free charts?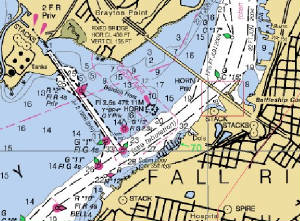 One of the odd things about the digital information age is that some things have gotten much more expensive while others have become free. Both things have happened to nautical charts. A single printed, paper version of an official NOAA nautical chart of Mount Hope Bay, 13226, now costs $27. Those of us of a certain age can remember when they were less than $2 each. However, today's charts are more up to date than in the past because they are Print-on-Demand (POD) and include all Notices to Mariners up to the date of printing. Every nautical chart can be ordered here, in your choice of water-resistant paper, or printed on fully waterproof synthetic material for $37.

Maybe I'm an old fart, but I still like to have copies of these big, beautiful paper charts onboard, especially for areas that I frequent, like Mount Hope Bay and the Taunton River. I like to be able to make notes on the charts using an ordinary pen, and I can fold one up to provide much greater detail over a larger area, and in much greater resolution than you see on any electronic chart plotting device. Even if you love your chart plotter, it is nice to have an instant back up for when the electronics fail.

For those that are anxiously reading this to see where they can get the "free" charts, you only need to go direct to NOAA. Their online website lets you download every chart for free in either raster (RNC) or vector (ENC) formats. RNC electronic charts look just like paper charts, while ENC charts use a different graphic interface that allows you to turn off and on different layers to customize what you are seeing on your screen. To use either type of electronic chart you need a computer and a charting program. I really like the free OpenCPN charting and GPS navigation program. To use all of its functions you need to purchase a small GPS receiver that plugs into your computer like this one you can get for less than $35 on Amazon.com.

In case you're wondering, I found that it takes about three hours to download every available free chart from NOAA, depending on the speed of your Internet connection. If you already have a computer, this set up provides almost cost-free charting and GPS navigation that is far superior to even the highest-end systems available just a few years ago. Frankly, I find the OpenCPN software to be much better than many other expensive and more complicated programs.

If you don't want to go through all that fuss, or you just want to look at charts at home, NOAA even has a free online chart viewing website. I love going to the online chart viewer when thinking about a new cruising area, or just to view a chart to help me decide if I want to purchase a printed copy.